Hello, friends! I am incredibly excited about today's post because not only do I get to cross off one of my New Year's Resolutions of participating in a blog tour, I also get to shout about one of the most fantastic and fluffy books I've read this year. 🌊☀ Small Town Hearts has easily become one of my favorite reads with its lovable characters, fun plot line, and heartwarming summer setting.
Lille Vale's vivid imagery makes scenes dance off the page so I thought it'd be fitting to capture her beautiful writing with a rainbow aesthetic. After all, a picture is worth a thousand words, and I can barely contain how much I adore Babe and Levi, the main characters, within one single blog post. Also, as a quick disclaimer, all photos for these mood boards were taken from Pexels and Unsplash which are my favorite go-to's for free stock images. 📸 My full review of this book will also be published next week as part of the Xpresso Book Tour!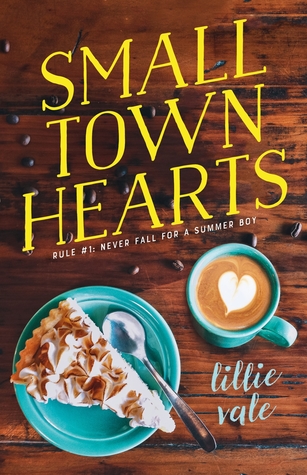 SMALL TOWN HEARTS by Lillie Vale
PUBLISHED BY Swoon Reads (MacMillan) on March 19th, 2019
GENRES: Contemporary
PAGES: 336
ADD TO GOODREADS // BOOK DEPOSITORY
Rule #1 – Never fall for a summer boy.
Fresh out of high school, Babe Vogel should be thrilled to have the whole summer at her fingertips. She loves living in her lighthouse home in the sleepy Maine beach town of Oar's Rest and being a barista at the Busy Bean, but she's totally freaking out about how her life will change when her two best friends go to college in the fall. And when a reckless kiss causes all three of them to break up, she may lose them a lot sooner. On top of that, her ex-girlfriend is back in town, bringing with her a slew of memories, both good and bad.
And then there's Levi Keller, the cute artist who's spending all his free time at the coffee shop where she works. Levi's from out of town, and even though Babe knows better than to fall for a tourist who will leave when summer ends, she can't stop herself from wanting to know him. Can Babe keep her distance, or will she break the one rule she's always had – to never fall for a summer boy?
R E D
"I wasn't a girl who missed the ways things used to be, I was part of the storm. I was the eye of it."
O R A N G E
Y E L L O W
"There was safety in things staying the same."
G R E E N
B L U E
"That was the risk of summer boys. They always outgrew summer."
P U R P L E
B R O W N
"Out of all the places in the world, why Oar's Rest?"
D A Y
N I G H T
ABOUT THE AUTHOR
Lillie Vale, upon discovering she could not be one of Santa's elves or attend Hogwarts, decided to become a writer to create a little magic of her own. Enjoying the romantic and eerie in equal measure, she's probably always writing a book where the main characters kiss or kill. Born in Mumbai, she has lived in many U.S. states, and now resides in an Indiana college town where the corn whispers and no one has a clue that she is actually the long-lost caps lock queen.
Find Lillie Vale on Twitter and Goodreads!
Be sure to check out the full blog tour schedule to see all the amazing guest posts, interviews, aesthetics, and creative posts!🌊☀
March 11
March 12
March 13
March 14
March 15
Have you added Small Town Hearts to your TBR? Which was your favorite aesthetic? 💕