If you follow me on Twitter or Instagram, you've probably been hearing me gush nonstop about the YA masterpiece that is If I'm Being Honest. I absolutely adored Emily Wibberley and Austin Siegemund-Broka's debut, Always Never Yours, so you can imagine that I was over the moon when they announced the release of their sophomore novel. 💐 Now, let me just say…this book did not disappoint. If I'm Being Honest is easily one of the best YA contemporary romances I've ever read. My only complaint is that I was so captivated that I finished the entire book in 5 hours, but I just want to read more(!!) Emily and Austin have reimagined a classic Shakespearean tale in a fun and interesting way, and I can safely say that their writing is as beautiful and eloquent as their book covers. 💖
IF I'M BEING HONEST by Emily Wibberley & Austin Siegemund-Broka
PUBLISHED BY Viking Books for Young Readers (Penguin Random House) on April 23rd, 2019
GENRES: Contemporary
PAGES: 384
ADD TO GOODREADS // BOOK DEPOSITORY
High school senior Cameron Bright's reputation can be summed up in one word: bitch. It's no surprise she's queen bee at her private L.A. high school—she's beautiful, talented, and notorious for her cutting and brutal honesty. So when she puts her foot in her mouth in front of her crush, Andrew, she fears she may have lost him for good.
In an attempt to win him over, Cameron resolves to "tame" herself, much like Katherine in Shakespeare's The Taming of the Shrew. First, she'll have to make amends with those she's wronged, which leads her to Brendan, the guy she labelled with an unfortunate nickname back in the sixth grade. At first, Brendan isn't all that receptive to Cameron's ploy. But slowly, he warms up to her when they connect over the computer game he's developing. Now if only Andrew would notice…
But the closer Cameron gets to Brendan, the more she sees he appreciates her personality—honesty and all—and wonders if she's compromising who she is for the guy she doesn't even want.
Trigger/Content Warnings: verbal bullying, mention of cheating, emotionally and verbally abusive parenting
Book Review ✏
There are honestly no words that can describe how much I loved this book. 😍 In middle school, my best friend and I went through a phase where we were obsessed with The Clique series by Lisi Harrison. We wanted to emulate that prep school, popular girl vibe because there's just something special about the confidence and charisma of a Massie Block, Blair Waldorf, or Cameron Bright type. They're definitely not perfect people, but a part of you adored and admired them anyway. This book took all those little feelings and combined it into a major throwback that tugged at my heart is the slightest way.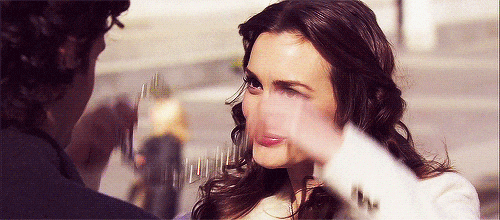 Cameron Bright is the Blair Waldorf of Los Angeles—she's bold, brilliant, and the Queen Bee. 👑 She's unapologetic with her words and actions which is why she's been notoriously dubbed a bitch. When she accidentally takes her brutal honesty a step too far in front of her crush, Andrew, she decides to rebrand her image and "tame" herself like Katherine in Shakespeare's Taming of the Shrew. The first step is to apologize to Brendan, a boy who she gave a rather unfortunate nickname to in middle school. At first glance, this book might seem like a simple love story, but in actuality, it's so much more multi-dimensional. We explore complicated family histories, varying types of friendships, and tie it all together with a romance that will make your heart swoon.
Cameron's growth throughout the book makes me SO SO HAPPY. 🥰 As her English literature class analyzes the themes and messages of The Taming of the Shrew, we can see parallels in Cameron's life as she questions the reasons behind her impulsive change in the first place and her actions when she was Queen (B)itch of Beaumont Prep. Throughout the story, Cameron discovers unlikely friendships and is forced to face her imperfect family relationships. Her journey throughout the book definitely isn't all smooth-sailing. There are times where she backtracks or wants to give up, but I loved watching her grow to become a better person.
"Katherine's not the villain of the play. It's the people trying to change her"

And the romance…I was all here for it(!!) Every single one of their interactions made my heart skip a beat. 💘 I was smiling along with all their playful banter and watching them fall for each other just makes me want to squeal into a pillow due to the pure cuteness. Brendan is an adorable and lovable computer science nerd, yet in a way, he has a smooth side to him that will give all the YA bad boys a run for their money. Let's be honest…he has to have some moves to make Cameron Bright fall for him. I think what made their romance especially touching was how they pushed each other to grow. They encourage each other to explore their passions despite family expectations, and you honestly can't help but root for them as a couple.
Overall, If I'm Being Honest is a book that you absolutely, positively, 100% need to read. We got to see adorable cameos of the main characters from Always Never Yours, and we also got to fall completely in love with new ones as well. 🌟 I'm already so excited to read Emily and Austin's next book (You can even add it here on Goodreads), and I sincerely hope that you adore this book as much as I did though ~if I'm being honest~, I'm sure you will!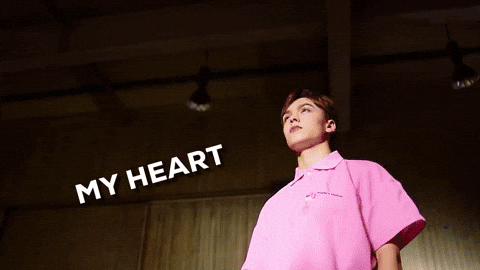 Rainbow Mood Board 🌈
As you may have heard, a picture is worth a thousand words. I had so much fun creating a rainbow mood board for the Small Town Hearts blog tour so I wanted to do the same for this one! Also, as a quick disclaimer, all photos for these mood boards were taken from Pexels and Unsplash which are my favorite go-to's for free stock images. 📸
P I N K
R E D
O R A N G E
Y E L L O W
G R E E N
B L U E
P I N K 2 . 0
ABOUT THE AUTHORS
Raised by a school librarian, Austin's always had a passion for books, especially books for young people. He met and fell in love with Emily in high school and went to Harvard University as an undergraduate. He studied English (focusing on Shakespeare) and graduated magna cum laude in 2014. Recently, Austin worked as a journalist for The Hollywood Reporter. He is currently a UCLA law student; however there's nothing he loves like writing with Emily.
Find Austin Siegemund-Broka on Twitter and Goodreads!
Emily, whose parents are screenwriters, has loved writing and story-telling since an age she hardly remembers. Since meeting Austin (she says it was middle school–accounts vary), Emily attended Princeton University as an undergraduate, studied psychology, and graduated magna cum laude in 2014. While at Princeton, she wrote the first novel in her self-published YA fantasy trilogy, The Last Oracle, which was featured in USA Today and was a finalist for the Next Generation Indie Book Awards.
Find Emily Wibberley on Twitter and Goodreads!
Be sure to check out the full blog tour schedule to see all the amazing reviews, playlists, and creative posts! ☀🌴
Week One
Week Two
Week Three
Have you added If I'm Being Honest to your TBR? Which was your favorite aesthetic? 💕