I think one of the greatest feelings a blogger can have is unexpectedly falling in love with a good book, and With the Fire on High did exactly that by falling into my lap like a happy surprise. 🔥🍴 I wasn't originally planning on reading this book, but after reading Shealea's touching review and hearing Fadwa rave about it on Twitter, it immediately sparked my interest. When the audiobook finally became available over the summer, I thought it was perfect timing! With the Fire on High was a touching story of family and perseverance, enticing me with delicious food and embracing me with the warmth of motherly love.   
WITH THE FIRE ON HIGH by Elizabeth Acevedo
PUBLISHED BY HarperTeen (HarperCollins)on May 7th 2019
GENRES: Contemporary
PAGES: 400
ADD TO GOODREADS // BOOK DEPOSITORY
With her daughter to care for and her abuela to help support, high school senior Emoni Santiago has to make the tough decisions, and do what must be done. The one place she can let her responsibilities go is in the kitchen, where she adds a little something magical to everything she cooks, turning her food into straight-up goodness.
Still, she knows she doesn't have enough time for her school's new culinary arts class, doesn't have the money for the class's trip to Spain — and shouldn't still be dreaming of someday working in a real kitchen. But even with all the rules she has for her life — and all the rules everyone expects her to play by — once Emoni starts cooking, her only real choice is to let her talent break free. 
Trigger/Content Warnings: premarital sex, teen pregnancy, slut-shaming
With the Fire on High follows the story of Emoni Santiago, an Afro-Latina 17-year-old who has a gift for cooking—when people eat her food, they're transported to FLAVORTOWN  a world where food can light a spark within your soul and inspire you. ✨ She dreams of attending culinary school where she can train to become a world-renowned chef, and coincidentally, her school has recently announced a new culinary arts class. Amidst all her student responsibilities, Emoni is also a teenage mother to the cutest 3-year-old little and lives with her grandmother who raised her.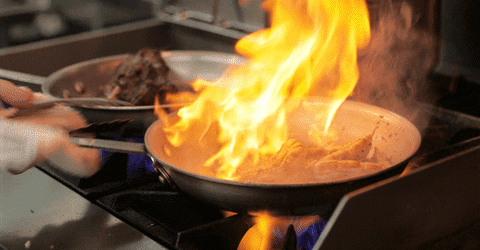 The family relationships within this book were done so so well. I loved seeing the realities Abuela Gloria and Emoni faced, juggling the responsibilities of raising a child in a single-parent household while trying to ensure being able to give them all that you can. 💞 Although my mother didn't have me when she was a teenager, I grew up in a single-parent household and spent a lot of time growing up with my grandma. Throughout the story, you can really see how much love and care they have for one another and continuously kept looking forward despite the hardships falling onto their path.
"And sometimes focusing on what you can control is the only way to lessen the pang in your chest when you think about the things you can't." 
I am such a fan of books that feature cooking, and this one had me hungry 24/7. 🤤 As you read through Acevedo's writing, you can easily see Emoni's passion for cooking fly off the page (and awaken the hunger in your belly). The vivid imagery makes it easy to picture the spices that Emoni is working with and also how her cooking makes others feel. If To All the Boys I've Loved Before inspired me to start my baking hobby, With the Fire on High emboldens me to become a chef.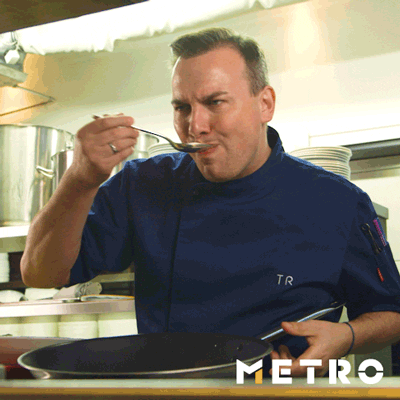 The romance between the characters was lighthearted, showing a contrast with the relationship between Emoni and her ex-partner/father-of-her-child. While Tyrone and his mother were the bane of my existence, Malachi was sweet, caring, and understood Emoni's responsibilities as a mother first. However, I wasn't really a fan of the drama and pettiness between Emoni and "Pretty Leslie", a girl who also has a crush on Malachi, though I could understand why it was used to showcase differing perspectives.
Overall, this book was a pleasant surprise, and I'm really glad that I gave it a chance and picked it up. If you ever get the chance to listen to the audiobook, I'd highly recommend it because it flies by quickly and is easy to listen to throughout your day. I'm excited to see more of Elizabeth Acevedo's work, and I'm hoping to pick up her other novel, The Poet X, sometime soon!
"The world is a turntable that never stops spinning; as humans we merely choose the tracks we want to sit out and the ones that inspire us to dance." 
Have you read With the Fire on High?
What were your thoughts?
Instagram | YouTube | Twitter | Goodreads | Pinterest
Instagram | YouTube | Twitter | Goodreads | Pinterest