A clean home is a happy home. If you ask any of my friends, they will easily tell you that I am SUPER picky about cleanliness and that I have a huge aversion to germs. I always carry a packet of tissues, sanitation wipes, and hand sanitizer wherever I go. I feel the best when my bedroom is free from clutter because it's a reflection of my personal mental state. While The Life-Changing Magic of Tidying Up focuses more on how to keep a space clear and minimalistic rather than how to disinfect every inch of your home from your ceiling to the floor, it did introduce to me a new question that I will forever retain to help keep my space happy and at peace: does it spark joy?
THE LIFE-CHANGING MAGIC OF TIDYING UP: THE JAPANESE ART OF DECLUTTERING AND ORGANIZING by Marie Kondō (Translated by Cathy Hirano)
PUBLISHED BY Ten Speed Press, Crown Publishing Group (Penguin Random House) on October 14th 2014
GENRES: Nonfiction
PAGES: 206
ADD TO GOODREADS // BOOK DEPOSITORY
Despite constant efforts to declutter your home, do papers still accumulate like snowdrifts and clothes pile up like a tangled mess of noodles?
Japanese cleaning consultant Marie Kondo takes tidying to a whole new level, promising that if you properly simplify and organize your home once, you'll never have to do it again. Most methods advocate a room-by-room or little-by-little approach, which doom you to pick away at your piles of stuff forever. The KonMari Method, with its revolutionary category-by-category system, leads to lasting results. In fact, none of Kondo's clients have lapsed (and she still has a three-month waiting list).
With detailed guidance for determining which items in your house "spark joy" (and which don't), this international bestseller featuring Tokyo's newest lifestyle phenomenon will help you clear your clutter and enjoy the unique magic of a tidy home – and the calm, motivated mindset it can inspire.
The overarching concept of this book is simple: keep items that "spark joy". Every item should have a home within your home whether it's a cup in a cabinet or a packet of tissues in your purse. But this doesn't mean throwing all your clothing into a dresser or closet and calling it a done deal. It means carefully examining everything that you own and thoughtfully considering whether it's really necessary. I'm the first one to admit that when I go through my wardrobe to decide which clothing items I want to donate. I always default towards saying "This is cute. I might wear this for XYZ occasion" but in reality, I just keep it because I can't bring myself to part with it. Most of the time, it's because I spent money on it, and I can't help but feel guilty for throwing it away without using it to its fullest extent. However, Marie Kondo explains that even unused items serve a purpose.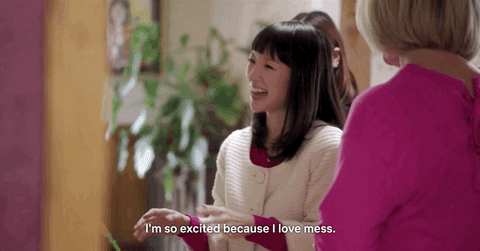 Like one of my all-time favorite book characters, Lara Jean Song-Covey, I like to collect things. Each item I bring into my home is because I believe it has value. However, in the same vein as how we must carefully consider the items we keep, we also need to consider the reasons why we purchase or add something to our collection to begin with. A lot of this corresponds to the materialistic world that we live in. It's easy to grab that free pen or tote bag that people pass out on the street, and it's easy to simply keep it all because they're technically "useful" items that we could use down the road. But in reality, we probably won't ever use it, and it'll just end up piling up in our never-ending collection of "stuff".
"The question of what you want to own is actually the question of how you want to live your life."
I will admit that several of Marie Kondo's ideas did feel pretty far-fetched. I am probably (like 95% sure) that I am not going to talk to my clothes or unload my purse every single day, but I can appreciate the sentiment and the reasons behind her actions. We need to appreciate the objects that we have and thank them for their purpose in our lives. It's a very spiritual and insightful approach that many people, including me, probably would not prioritize in their everyday routine, but on a higher level, it's something we can keep in mind as a personal philosophy.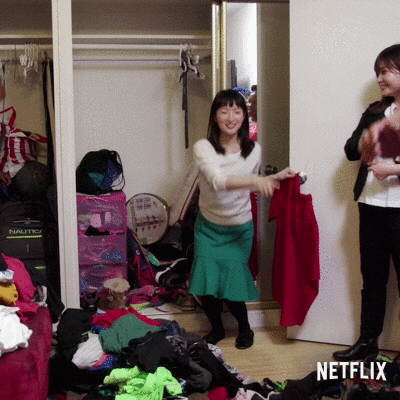 Part of the reason why I enjoyed this book and why I think many others have as well is because it goes beyond the tips and tricks of how to keep a place clean. It has an almost spiritual and emotional component that asks you to reflect on the materialistic mindset that many of us easily fall into. I love owning stuff, and it's difficult to part with items that we either spent money on or seemed like a good deal. We think they have an extended use, but if it isn't something that makes you happy, it's clutter. Instead of worrying about all the little questions about whether or not it's valuable or whether or not you'd use it 5 years in the future, just ask yourself one question—does it spark joy?
"The space in which we live should be for the person we are becoming now, not for the person we were in the past."
Have you read The Life-Changing Magic of Tidying Up?
What were your thoughts?
Instagram | YouTube | Twitter | Goodreads | Pinterest
Instagram | YouTube | Twitter | Goodreads | Pinterest