Hello, friends! The start of the school year always signals a busy season of studying, exams, extracurriculars, and more. It's always a struggle trying to balance school and blogging, so today, I wanted to share a few books on my TBR that I desperately want to finish this year. ✏ Hopefully, sharing my TBR to the public will help keep me accountable, especially in terms of finishing ARCs. I wrote a similar post earlier in the year, and it definitely helped me stay on top of everything so here we go!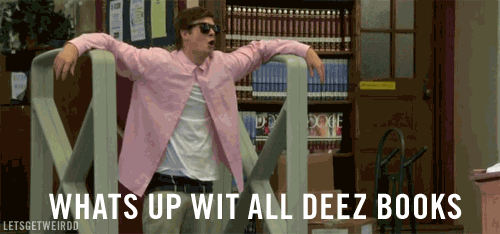 I am so so so excited to be participating in the blog tour for this book which is hosted by Caffeine Book Tours. I have been shouting about this book ever since last year, and I cannot believe that in less than a month it will be released to the world. Katie is one of my favorite authors on Twitter—she is endlessly kind and her snippets of writing never fail to make me smile. 🐉 If you're a fan of Percy Jackson (and i mean who isn't), then I'm sure you'll love Faryn and her story. This is a book that I already know I'll adore and will be gifting to all my younger cousins!
🌺 Related: Most Highly Anticipated Asian Fantasy Books for 2019
It's really no secret that I am a huge fan of fluffy contemporaries, and Kasie West is easily one of my favorite go-to authors for a feel-good story. 💘 I've actually already started reading this book as part of a buddy read with Lily from Sprinkles of Dreams, but I had to set it aside for a while to finish up some other books. I'm making it a personal mission to pick it up again sometime this month and hopefully have it finished by sometime in October. Even though the weather will be getting cooler for fall, the springtime setting in this book will be the perfect contrast. 🌸
A few weeks ago, I posted my unboxing video for this book on Twitter, and now, Frankly in Love is out in the world!! I still haven't had the chance to find the time and devour this book, but I have been hearing such great things. The promotional book trailer for this book was one of the cutest I've seen in a while, but I've also heard from friends that the story is much more thoughtful than I originally thought in terms of exploring themes of identity and culture. 💛💚 Frankly, I already know that I'm going to be in love with this, and it's just a matter of time before I pick it up!
Okay…I KNOW I WAS SUPPOSED TO READ THIS MONTHS AGO. 😭 I've written about this in my past monthly wrap-ups, but in June, Julianna from Paper Blots, Lily from Sprinkles of Dreams, and May from Forever and Everly decided to buddy read this book together. However, it's now September AND I STILL HAVEN'T FINISHED THE BOOK. *cue sad violin music* I honestly hate myself for being such a bad buddy read partner, but I am determined to finish this book ASAP because my dear friends loved the story. I also really really want to read Jade War together. 🥺
Girls of Storm and Shadow by Natasha Ngan
This is me being super grateful and happy because I was approved for a physical ARC of one of my most highly anticipated reads of the year!! 🥰❤️ I read the first book in this series, Girls of Paper and Fire, and remembered being shooketh at the cliffhanger of an ending so I'm super excited to start the second book and see how everything unravels. I'm hoping to go into this story without *too* high expectations since I know some of my friends were disappointed by how things turned out…but we'll see when I pick it up. 👀
Natalie Tan's Book of Love and Fortune by Roselle Lim
This year I started branching out into the romance genre and read a few books that left me feeling warm and fuzzy inside so I'm super excited to start this story which is centered around family and food. Honestly, even reading the synopsis of this book had me ~in my feels~ because it touches on so many relatable themes of community and culture that I'm sure many Chinese children of diaspora can understand. I don't really know what to expect, but I am ready to be left feeling hungry for more. 🥟
🌟 Bonus! 🌟
Sorcery of Thorns by Margaret Rogerson. I decided to add this book as a bonus to the list because I don't own my own personal copy. BUT! I have heard SUCH great things that I know I need to read it before the end of the year. Caitlin's review was honestly the final nudge I needed to add this story to my TBR. 🗡 I haven't been fully immersed in a fantasy read for a while, and I'm always a sucker for romance and wholesomeness too so I'm excited to see it all come together in this magical story!
Have you read any of these books?
What books are on your TBR?
Instagram | YouTube | Twitter | Goodreads | Pinterest
Instagram | YouTube | Twitter | Goodreads | Pinterest