It's been almost two years since I last posted my book reviews for Lady Midnight and Lord of Shadows, but I'm so excited to finally be sharing my thoughts on the final book in The Dark Artifices trilogy. Part of me always feels a little nostalgic when I talk about the Shadowhunter world because I started reading about this universe in the 6th grade. 🗡💘 Every book has been a journey in itself, and watching the characters grow, fall in love, suffer??, and survive (well some of them) has been an emotional rollercoaster.
QUEEN OF AIR AND DARKNESS by Cassandra Clare
PUBLISHED BY Margaret K. McElderry Books (Simon & Schuster) on December 4th 2018
GENRES: Fantasy
PAGES: 912
ADD TO GOODREADS // BOOK DEPOSITORY
Dark secrets and forbidden love threaten the very survival of the Shadowhunters in Cassandra Clare's Queen of Air and Darkness, the final novel in The Dark Artifices trilogy.
What if damnation is the price of true love?
Innocent blood has been spilled on the steps of the Council Hall, the sacred stronghold of the Shadowhunters. In the wake of the tragic death of Livia Blackthorn, the Clave teeters on the brink of civil war. One fragment of the Blackthorn family flees to Los Angeles, seeking to discover the source of the disease that is destroying the race of warlocks. Meanwhile, Julian and Emma take desperate measures to put their forbidden love aside and undertake a perilous mission to Faerie to retrieve the Black Volume of the Dead. What they find in the Courts is a secret that may tear the Shadow World asunder and open a dark path into a future they could never have imagined. Caught in a race against time, Emma and Julian must save the world of Shadowhunters before the deadly power of the parabatai curse destroys them and everyone they love.
Trigger/Content Warnings: hate speech, self-harm, themes of war, violence, threatening to out someone, depictions of grief, trauma, suffering, and depression, death of loved ones
Queen of Air and Darkness was a showstopping finale in the trilogy, picking up right where the last book ended…where do I even start?? The Cohort (AKA Shadowhunter fascists) have been trying to take over the government and oppress Downworlders, the Seelie Queen and Unseelie King are at odds, Annabelle Blackthorn has disappeared with the Black Volume, and Livvy Blackthorn and Inquisitor Robert Lightwood have just been murdered in front of the Clave. If you thought the last book was busy, buckle your seatbelts friends because this book was a RIDE.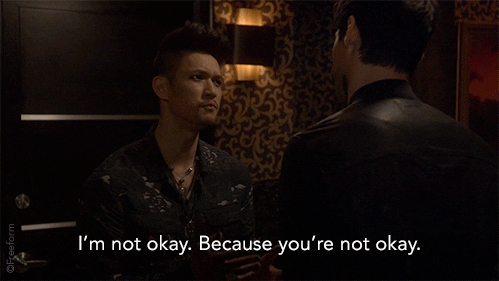 In terms of pacing, I will say that this book is FREAKING LONG. The audiobook itself was 35 hours, and the physical book is over 900 pages. As much as I love having tons of pages to consume and feel invested in the characters and plo, the insane length of this book made it difficult to constantly be engaged. Some aspects of the story that could have been important became forgettable due to the mass amount of information, and the bulk of action doesn't start until 400 pages in (which is the size of a regular book!!)
"Grief can be so bad you can't breathe, but that's what it means to be human. We lose, we suffer, but we have to keep breathing."

Through the plot and characters, Cassandra Clare also explores the themes of fascism and racism where the Cohort utilizes tools of fear in the community to take control of the Clave and oppress Downworlders. When I first read this book in 2018, I kept thinking of how this was so reflective of the current political climate in the U.S., and while it was incredibly frustrating to read, it also felt very real since these feelings of prejudice and bigotry exist so visibly in daily life.
Out of the Clary, Tessa, and Emma trio, Emma is probably my favorite character despite me relating the most to Tessa. She is so inspiring and strong and badass and ridiculously funny?! I adore her character so much, and through the books, you really see her develop and mature while still being caring and compassionate. Meanwhile, I'm also such a fan of Julian Blackthorn's anti-hero(ish) character.It's different from the typical Herondale, but it's a nice contrast against Jace and Will. His love for his family throughout the story honestly made me heart HURT. I love how he cares so deeply for those around him, and at the same time, with Emma, he's an unstoppable warrior.
"Shadowhunters are slow to love but once we love, we love forever."
One reason why I'm so particularly fond of the Shadowhunter books is that the entire world is intertwined, and I've become wholeheartedly invested in the characters. I loved seeing cameos from Aline and Helen, Jem and Tessa, Magnus and Alec, and each book feels like an addition to a greater story. From City of Bones until now, I can see Cassie becoming more inclusionary with her writing from sexuality and gender representation to include a character with autism. Her efforts are by no means perfect, but I do appreciate how she's using her platform as a cis white woman to write more diversely.
As a final novel in the trilogy, part of me was expecting a little more. It was incredible to see the culmination of so many prior events, and I loved reading about the growth of the Blackthorn family. However, in comparison to Clockwork Princess, it wasn't the *perfect* ending (though there is a really nice fan-service-y ending). This conclusion really did feel like a set up for the beginning of the next series, and I'm extremely excited to see where the heroes go next in The Last Hours.
"As long as you exist and I exist, I will love you."
Have you read The Dark Artifices trilogy?
Who's your favorite shadowhunter?
Instagram | YouTube | Twitter | Goodreads | Pinterest
Instagram | YouTube | Twitter | Goodreads | Pinterest