With everything in the world as hectic and anxiety-inducing as it is, More Than Maybe was the contemporary romance that I needed to lift my spirits. 🎵 Filled with heartwarming friendships, swoony British accents, and passion for music, this book had me invested from the first page.
Erin Hahn's writing flows off the pages, and I only wish that I had a greater knowledge of music so that I could appreciate all the references more. 💗 Her characters were easy to love yet incredibly complex like most high schoolers, and my heart felt so content watching the story unfold.
MORE THAN MAYBE by Erin Hahn
PUBLISHED BY Wednesday Books (MacMillan) on July 21st 2020
GENRES: Contemporary
PAGES: 336
ADD TO GOODREADS // BOOK DEPOSITORY
Growing up under his punk rocker dad's spotlight, eighteen-year-old Luke Greenly knows fame and wants nothing to do with it. His real love isn't in front of a crowd, it's on the page. Hiding his gift and secretly hoarding songs in his bedroom at night, he prefers the anonymous comfort of the locally popular podcast he co-hosts with his outgoing and meddling, far-too-jealousy-inspiringly-happy-with-his-long-term-boyfriend twin brother, Cullen. But that's not Luke's only secret. He also has a major un-requited crush on music blogger, Vada Carsewell.
Vada's got a five year plan: secure a job at the Loud Lizard to learn from local legend (and her mom's boyfriend) Phil Josephs (check), take over Phil's music blog (double check), get accepted into Berkeley's prestigious music journalism program (check, check, check), manage Ann Arbor's summer concert series and secure a Rolling Stone internship. Luke Greenly is most definitely NOT on the list. So what if his self-deprecating charm and out-of-this-world music knowledge makes her dizzy? Or his brother just released a bootleg recording of Luke singing about some mystery girl on their podcast and she really, really wishes it was her?
Content/Trigger Warnings: divorced parents, absent parent, alcohol
Told in a dual perspective POV, More Than Maybe follows the lives of high school seniors, Vada Carsewell and Luke Greenly. Vada is a talented music blogger who dreams of becoming a music journalist, and in her spare time, she works at the Loud Lizard, a local bar and concert hall. Luke Greenly is the son of a former British rock singer, and when he's not recording a podcast with his twin brother, he secretly writes his own music.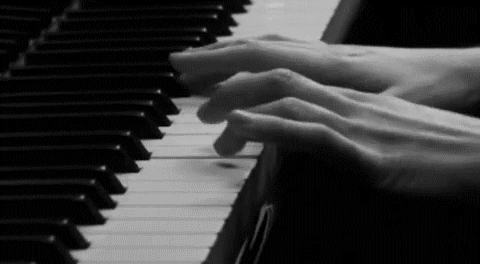 The romance in this story was exceptionally fun to watch unfold as we see Vada and Luke's crush turn into friendship and then into something more. 💗 Their text conversations were so sweet, and I wish that I knew more about iconic music songs and artists to understand all the references. 
"And I would only ever want the best for you because that's what love is."
Erin Hahn's writing was SO FUN to read. ✏️ In many ways, it made me nostalgic for my Wattpad days because of all the awkward teen moments and romantic angst. Parts of the story were a little predictable (such as the ending), but honestly, I didn't mind it at all and enjoyed the sweet moments that we knew would come along. 
Most notably, I really enjoyed reading about Vada's relationship with Phil, the owner of the Loud Lizard and her mother's boyfriend. We get to explore the contrasting relationships between him and her biological father, and I loved seeing a step-parent in YA be shown as someone who can provide emotional support and not as an evil villain.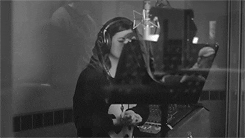 Overall, More Than Maybe was an enjoyable read that I couldn't help but get lost in. 🎤 Erin Hahn has become one of my new favorite authors, and I can't wait to see what she writes next!
"There are two kinds of people in the world. The kind who listen to music and the kind who live in it."
Have you read More Than Maybe?
What were your thoughts?
Instagram | YouTube | Twitter | Goodreads | Pinterest
Instagram | YouTube | Twitter | Goodreads | Pinterest