CAUTION: don't read this book while hungry because you will find yourself craving a warm bowl of pho, savory egg rolls, crispy banh xeo, and so much more.
Filled with the most delicious food descriptions and a sweet romance, A Pho Love Story explores the complexities of family expectations and forming your own identity. Through our main protagonists, Linh and Bao, we learn about the families' rivalry in food and shared pasts, shaped by the Vietnam War.
A PHO LOVE STORY by Loan Le
PUBLISHED BY Simon & Schuster Books for Young Readers (Simon & Schuster) on February 9th 2021
GENRE: Contemporary
PAGES: 416
ADD TO GOODREADS // BUY AT BOOKSHOP
If Bao Nguyen had to describe himself, he'd say he was a rock. Steady and strong, but not particularly interesting. His grades are average, his social status unremarkable. He works at his parents' pho restaurant, and even there, he is his parents' fifth favorite employee. Not ideal.

If Linh Mai had to describe herself, she'd say she was a firecracker. Stable when unlit, but full of potential for joy and fire. She loves art and dreams pursuing a career in it. The only problem? Her parents rely on her in ways they're not willing to admit, including working practically full-time at her family's pho restaurant.

For years, the Mais and the Nguyens have been at odds, having owned competing, neighboring pho restaurants. Bao and Linh, who've avoided each other for most of their lives, both suspect that the feud stems from feelings much deeper than friendly competition.

But then a chance encounter brings Linh and Bao in the same vicinity despite their best efforts and sparks fly, leading them both to wonder what took so long for them to connect. But then, of course, they immediately remember.

Can Linh and Bao find love in the midst of feuding families and complicated histories?

When Dimple Met Rishi meets Ugly Delicious in this funny, smart romantic comedy, in which two Vietnamese-American teens fall in love and must navigate their newfound relationship amid their families' age-old feud about their competing, neighboring restaurants.
A Pho Love Story follows the dual perspectives of highschoolers Linh Mai and Bao Ngyuen whose parents own competing pho restaurants in Little Saigon. While Linh dreams of becoming an artist despite her parents' wishes, Bao struggles with the uncertainty of future career plans as the deadline of college looms closer.
The relationship between our protagonists and their families felt achingly familiar from expressing love through quiet actions and accidentally misunderstanding one another due to generational differences. Throughout the story, Linh and Bao learn of their parents' escape as refugees of the Vietnam war, and this message of a parent's sacrifice in hopes of a better life for their children is one that many diaspora kids can understand.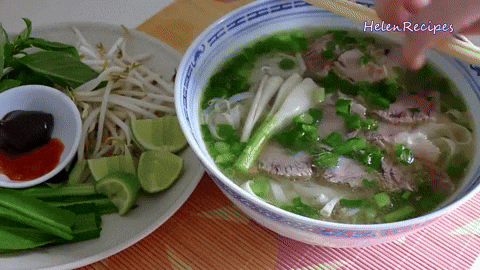 My biggest struggle with this book was that it felt WAY. TOO. LOOOONNGG. I honestly don't think any YA contemporary book needs to be over 400 pages, especially since it doesn't need extra room for world-building in comparison to fantasy books…but that might just be a personal preference.
While the writing itself was easy to read, the length of the book made certain scenes feel unnecessary. I've also grown personally tired of the "protagonist wants to pursue an arts career against their Asian American parents' wishes" plotline since I'm basic and pursued a YAPPIE (young asian professional) career, but I can understand why it's significant and meaningful to other readers.
While Linh and Bao's romance does play a major role in this story, I found myself more invested in their parents' interconnected past and the mouthwatering food descriptions and busy restaurant life. It might be because Linh and Bao get together very early on in the story so the conflict in their relationship was more due to their parents' forbidding it versus a personal rivalry.
All in all, I loved seeing how proudly Vietnamese this book was from the casual way the characters spoke a mix of Vietnamese and English with their family to the hustle and bustle of loving Vietnamese aunties. At the same time, the story thoughtfully reflects on the shared trauma that many refugees of the Vietnam War experienced and how those events had lasting effects on generations.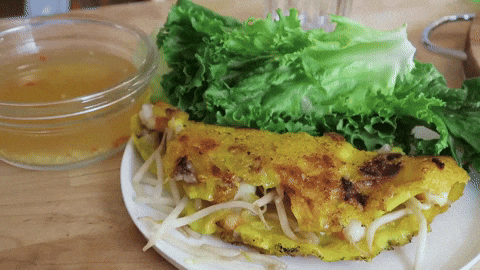 Thank you so much to the publisher for sending me a copy of this book in exchange for an honest review!
Have you read A Pho Love Story?
What were your thoughts?
Instagram | YouTube | Twitter | Goodreads | Pinterest